Are you a local business that offers SUMMER CAMPS, Classes, Activities, Learning, or Events? If yes, then the 2023 Ultimate Summer Camp & Events Guide is for YOUR BUSINESS!
As you know, summer arrives FAST and parents must plan ahead. Many families are starting to explore their summer options NOW. We know how important good advertising is, especially when it comes to reaching the right audience. Macaroni KID is THE go-to for targeted marketing to local parents. So let's get your name out there and your summer programs filled so you can focus on other things.
CLICK HERE FOR A SAMPLE OF A CAMP GUIDE
WHAT is the "SUMMER GUIDE"?
Our 2023 Summer ULTIMATE Camps, Classes, Activities, and Events Guide will feature the local camps and classes of the summer break as well as popular ANNUAL local events. Along with details about your camps and classes, there will be links to contact your business and links to view your website and/or social media pages. You may include pictures, reviews, testimonials, current deals, discounts and specials.
| | |
| --- | --- |
| | |
The guide will be advertised daily on our website 24/7 and also run EVERY week in our newsletter from February 15th through August 15th. Space is limited & available on a first-come, first-serve basis. Don't miss out!
WHICH EDITION WILL YOU CHOOSE?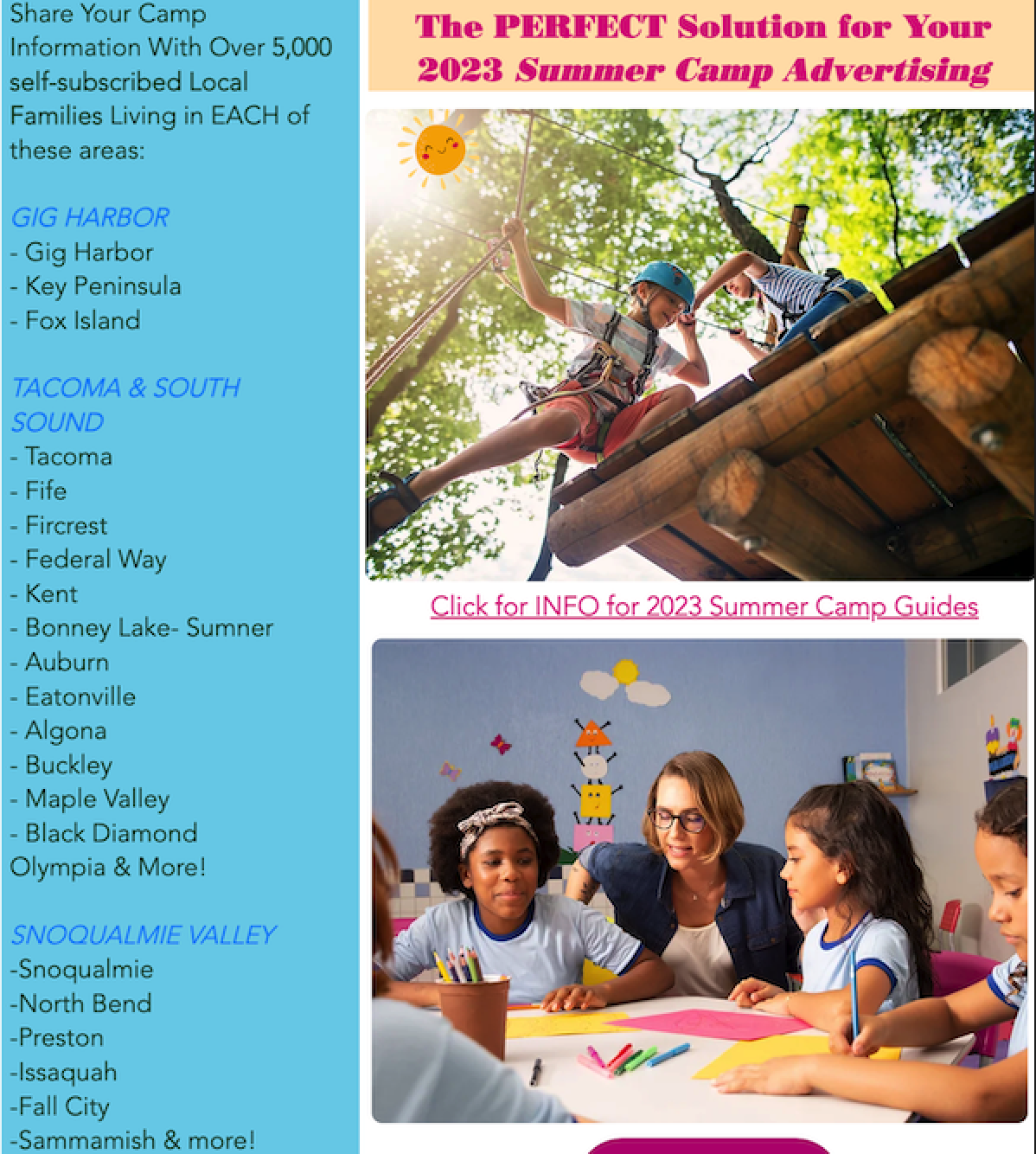 You are NOT required to insert your ad in the same territory where your business is located.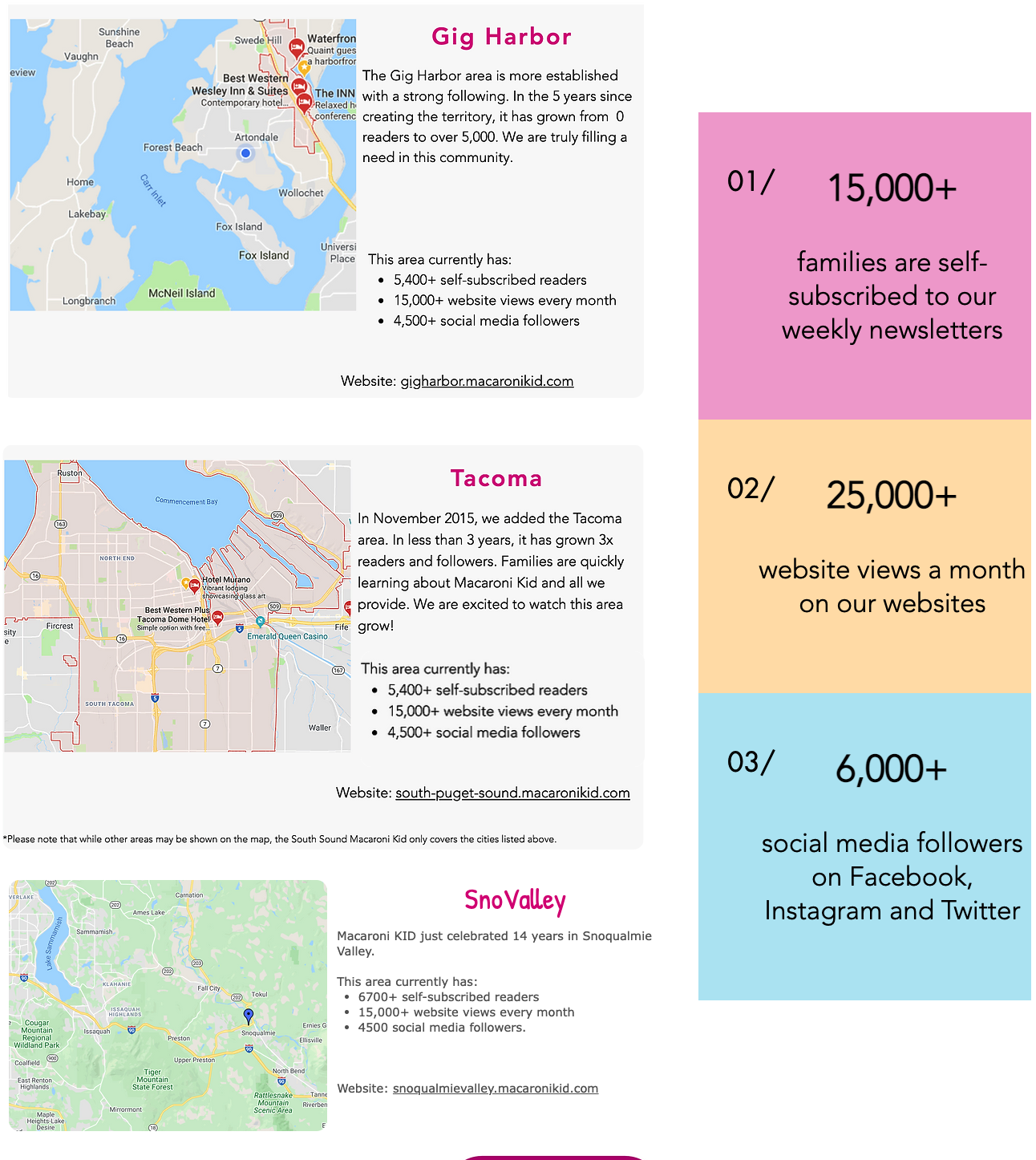 GET TO KNOW MACARONI KID..
Each edition is listed below with its own website. The websites serve families and businesses in the following cities and surrounding areas. Take a look around!
Click to View a Previous Camp Guide
List Your class/camp/activity/event in the 2023 SUMMER CAMP GUIDE!
Sign up here https://bit.ly/mkcamppromotion
INVESTMENT TO PROMOTE SUMMER PROGRAMS
There are 3 Macaroni KID editions that qualify for this pricing structure. Price is PER EDITION.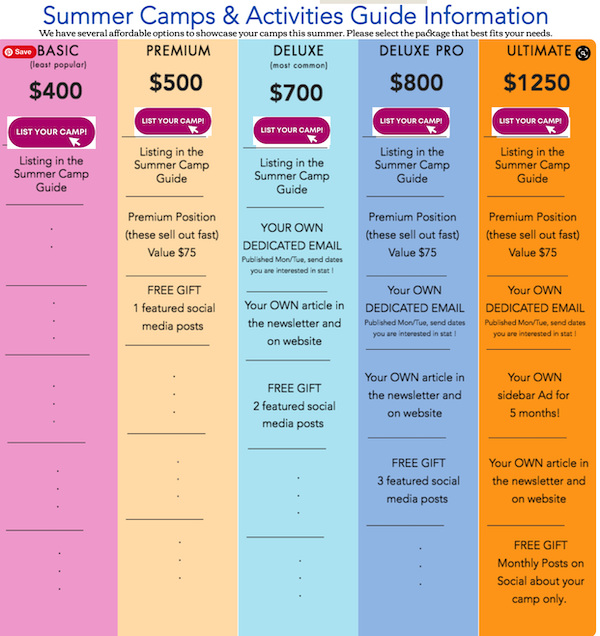 Get LISTED first! Fill out THIS FORM HERE Today!
Receive a 50% discount on each additional area you sign up for.
Guide Run Dates:
February 15th - August 15th (this is not prorated so the best deal is an insertion by Feb 15th)
Advertised:
Promoted daily on 24/7 website
Promoted weekly in the popular e-newsletters
Guide is posted Monthly on Social Media on our multiple pages/platforms
Targeted Marketing to Thousands of Local Parents & Caregivers
What's Included in Listings:
Camp Theme Name
Name
Description
Logo & Photos
Link to Website (URL)
Location
Phone Number
Email Address
Testimonials
Earlybird (by 1/31/23)
Your Camp will be included in TWO DEDICATED emails in March and April on the 15th.
You will receive a FREE feature article (you submit) and a special shout-out on social media (you provide context/image) before February 1st. Email AnnmarieM@MacaroniKID.com
To get your camps, classes, activities or events listed, fill out THIS FORM HERE. Pricing is per edition.
à la carte & NON PROFIT Rates
On a budget? We get it! It's still worthwhile to get listed in Macaroni KID in a different area.
---
Camp guide listing NOT required
Featured Article..... $100/week
Featured articles spotlight your camp information through your own private article. The guide is a shared space while the featured article is 100% about your camps. Your article will be advertised on the homepage of our website for a month and in our newsletter for 1 week.
---
Exclusive Email..... $400
A dedicated email to one of our lists of 5,500+ subscribers that is all about you. Our readers will receive your camp information directly in their inboxes.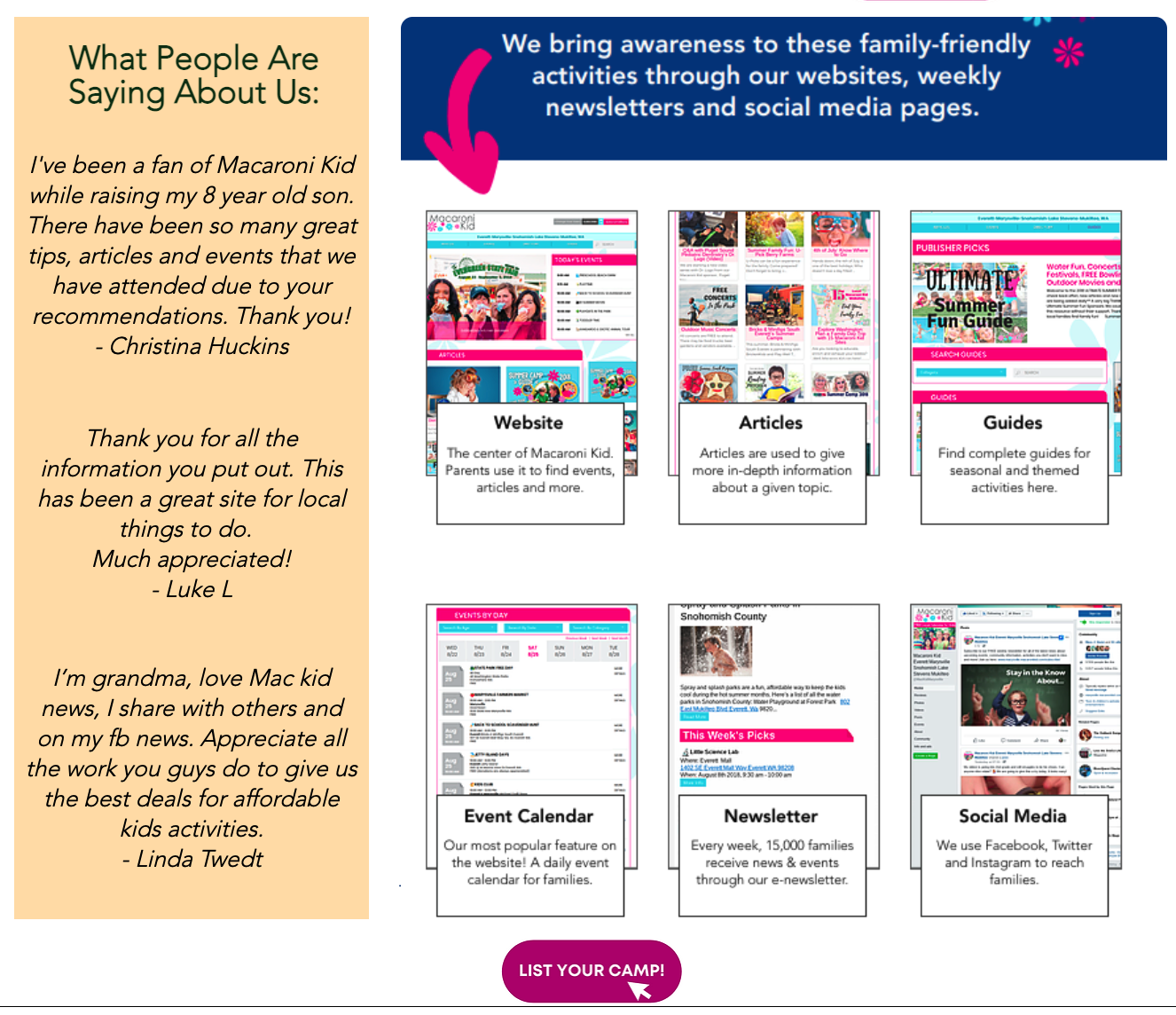 Gig Harbor, Fox Island, Key Peninsula Macaroni KID is a free weekly newsletter and website focused on fun family events and information in the greater Greater Gig Harbor area.
We gather together all kinds of local family events and activities each week and add useful information about classes, family-focused businesses, book and product reviews, recipes, crafts, school and camp guides, and more. We proudly serve thousands of families in Gig Harbor, Fox Island, Key Penisula, and other surrounding communities.
We encourage you to confirm details about any event or activity before attending.
Cancellations or alterations can happen at any time due to weather, low registration, or other unforeseen circumstances.