Harbor History Museum is pleased to announce the opening of two new exhibits. In our Special Exhibitions Gallery, we are featuring "Little Boats: Homegrown Innovation."
From 14 inches to 14 feet, "Little Boats" is sure to delight both young and old.
The exhibit features a fascinating range of full-size, model, and toy boats, including Avanti, which is featured in the current issue of Small Boat Magazine. A classic Torpedo from Aristo Craft is another incredible craft in the show. These speedsters are coupled with two small older boats used to take goods to market and a half-sized seine skiff just right for kids to step aboard.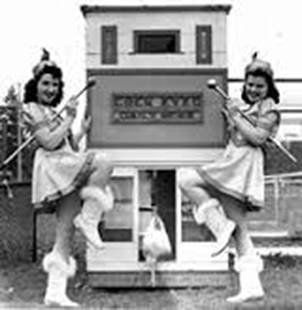 Many of the toy boats are from the collection of HHM Shipwight Riley Hall, with a few unique treasures from the HHM Collection such as Paul Gustofson's set of local ferries and a beautiful West Coast native canoe model. Our thanks to lenders and donors Brian Andersen, Terry Smith, Gig Harbor Boatshop, and Riley Hall for making these boats available. "Little Boats" will be on view through August 2022. Featured in our lobby gallery is "Welcome to Roosterville." This exhibit was made possible through a Creative Endeavors grant from the Gig Harbor Arts Commission. "Welcome to Roosterville" is a fun exhibit of photographs and ephemera from the early days of Clarence Shaw's Racing Roosters. The first race was a huge hit, held on what was then Front Street to help celebrate the opening of the new Grandstand at the head of the bay. Shaw's racing roosters became so popular that in 1938, they were invited to appear on the New York radio show Hobby Lobby with a racing demo done at Madison Square Garden. Movie studios made newsreels of the roosters which were shown at theaters across the nation. Through these newsreels and numerous newspaper and magazine articles (including Life, Popular Science, Argosy), Shaw and his Rooster Races managed to put Gig Harbor on the map for over 50 million people worldwide! Come and see photos and artifacts from Roosterville's glory days. This exhibit will only be available through the end of March!
About Harbor History Museum: Harbor History Museum creates opportunities to experience the heritage of the greater Gig Harbor communities by collecting, preserving, and sharing the rich history of the area. Founded in 1964, the Gig Harbor Peninsula Historical Society, dba Harbor History Museum, opened its new facility in 2010. The museum campus includes an 1893 fully restored one-room schoolhouse; a 65-foot fishing vessel currently being meticulously conserved; 7,000 square feet of exhibition space; and a 900-square foot library, research, and meeting room. Masks are required for entry during this time.
CURRENT HOURS – Thursdays–Saturday 11 am–4 pm
ADMISSION – Complimentary Admission for all visitors, courtesy of the City of Gig Harbor. CONTACT – 253-858-6722, www.HarborHistoryMuseum.org, Operations@HarborHistoryMuseum.org