Are you getting egg-cited for Easter? We are! We love putting together our Easter baskets every year with gifts and candy we know will leave our kids hopping with excitement. Plus, given the year our kids have had, we are ready to go overboard this year. We can all use that bunny-sized helping of happiness.
We've put together a list of a few favorite things we've found for the Easter bunny to include in baskets at our house, and wanted to share our joy with you. Our list includes a great interactive toy sure to be a favorite, personalized art they'll treasure forever, a subscription to an online streaming service just for kids, and of course — you can't forget those Easter sweet treats!
Guess what? You can enter to win gifts from every company included below! Hope that puts a little spring in your step.
No purchase necessary to enter or win. You must be 18 years or older and a US resident. Entries accepted until March 23, 2021, at 11:59 pm EST. For complete rules, click HERE.
---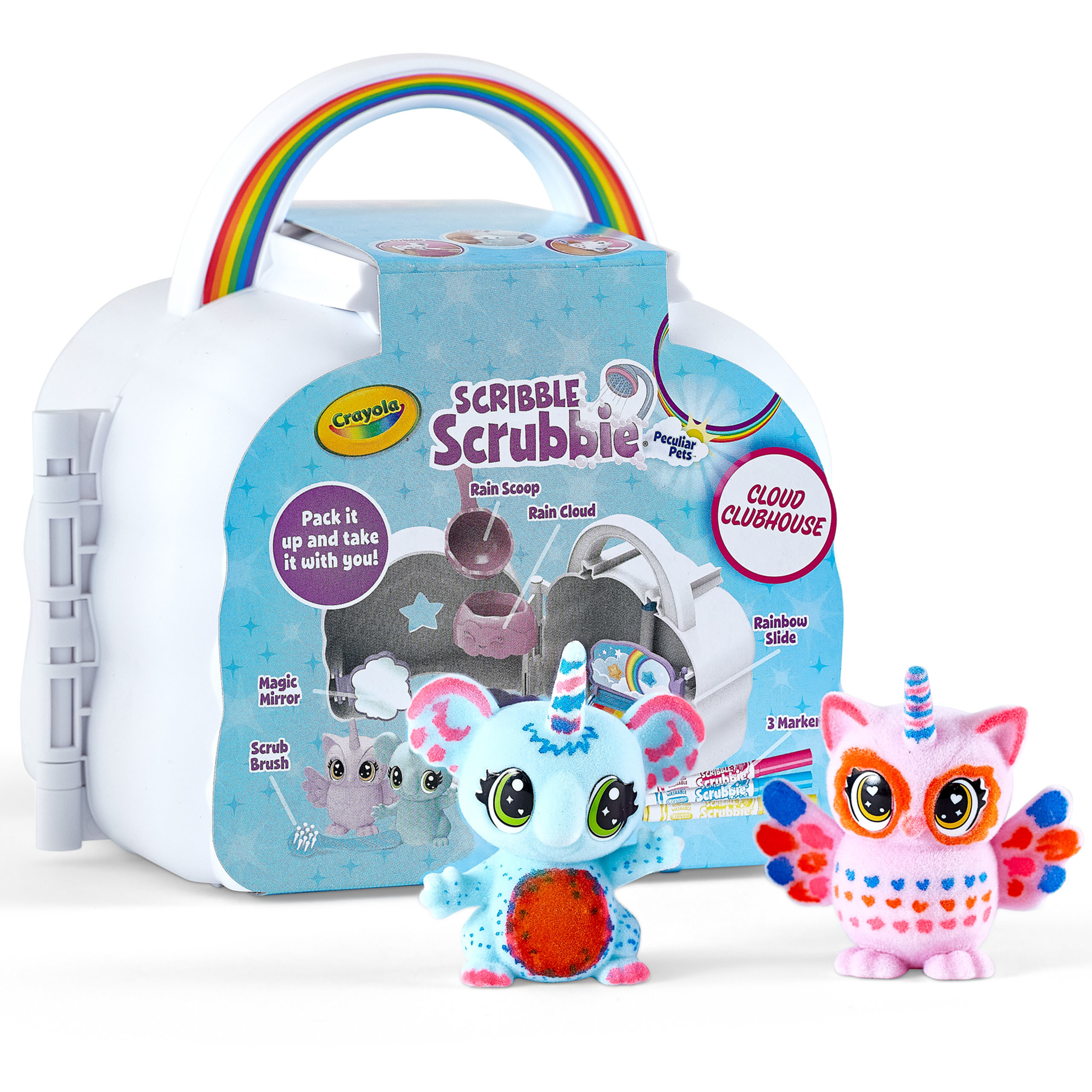 Crayola Scribble Scrubbie Pets
With Crayola Scribble Scrubbie Pets, kids can color and customize miniature pets, clean them, and color again.
The Scribble Scrubbie Pets Cloud Clubhouse introduces NEW innovation with colored pets that add more color and fun! This set includes two new colored pets (Uni-Owl and Uni-Koala), 3 Ultra-Clean Washable Markers, a rainbow slide, a rainwater shower, scrub brush, and so much more!
Find more colorful fun with Scribble Scrubbies Pets Backyard Bungalow that includes 2 pets and fruit scented washable markers, or dress up your pets with Scribble Scrubbie Princess and Mermaid Costumes. With fun fabric costume options, kids can dress up their Scribble Scrubbie Pets for new adventures. Ages 3+; Clubhouse and Bungalow SRP $14.99 and Costumes SRP $9.99.
---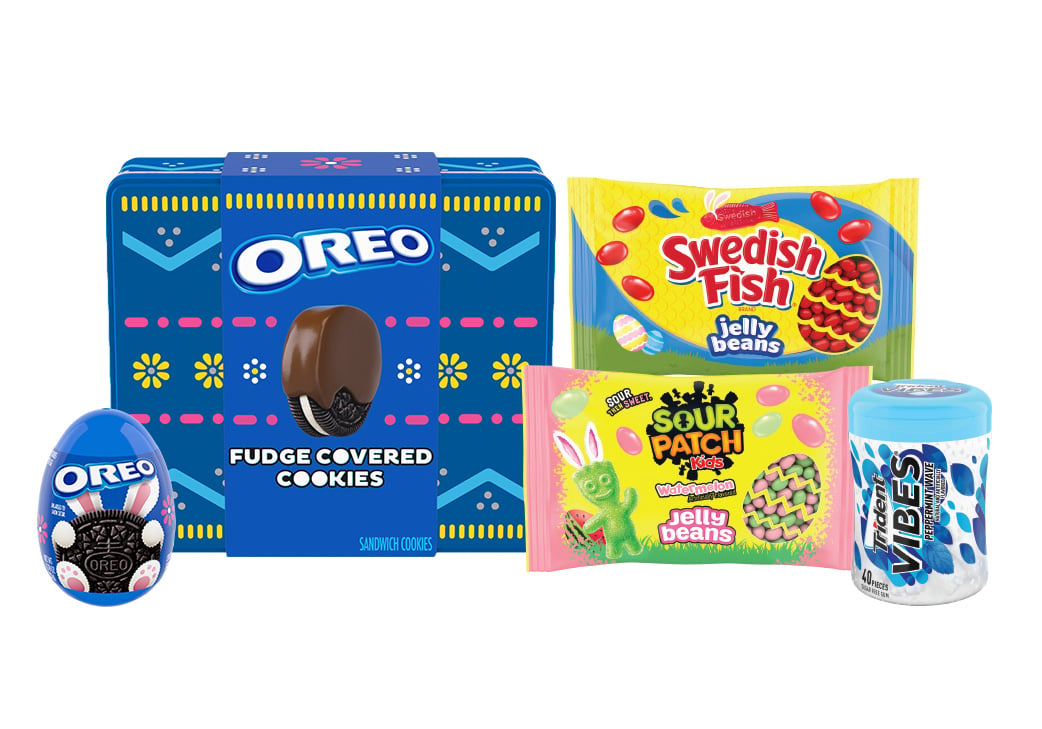 Mondeléz/NABISCO Snacks
From egg hunt prizes to basket fillers, Mondeléz and NABISCO have a fun selection of tasty treats to make kids and grown-ups hop for joy! Looking for jelly beans with a twist? Dig into SOUR PATCH KIDS Watermelon Jelly Beans or SWEDISH FISH Jelly Beans. They taste just like your favorite candies — only jelly bean-ified. Give your basket a touch of cool, minty flavor with Peppermint Wave TRIDENT VIBES Gum.
For the cookie lover, a Limited Edition OREO Easter Egg is an egg-cellent choice. And for the fudge fanatics, the Fudge Covered OREO Cookie Easter Tin makes for a delicious gift, prize, or collector's item.
---


Minno
Minno is a Christian streaming service that brings the Bible to life for your kids year-round. With no ads or pop-ups, you can rest easy with meaningful screen time for your kids 2 to 12. With a library of over 115 shows, they have 36 episodes all about Easter! Among them: VeggieTales®, Superbook, and Minno Easter Week Five Minute Family Devotionals. Now is the perfect time to keep your kids in the Easter story all season long! (can cut this last sentence if the copy is too long)
Minno also has two storybook Bibles created just for kids with whimsical storytelling and beautiful illustrations. They're the most comprehensive, kid-friendly presentation of the gospel and perfect for Easter baskets!
Grow Bible for Kids (Ages 4-8+): Written by VeggieTales® creator Phil Vischer, this family Bible is more than a children's Bible storybook... it's a deep, engaging, laugh-out-loud gospel experience.
Laugh and Grow Bible for Little Ones (Ages: 0-3): Fifteen beautifully-illustrated, whimsically-written Bible stories that will introduce little learners to God's great story.
---


My Favorite Athlete
What a great gift for kids with a passion for sports or virtually any other activity! Just choose a theme and upload a photo to the My Favorite Athlete website. Their professional designers will create an amazing custom inspirational print.
This is the kind of unique gift the kids hang in their rooms, look at daily, and cherish for years.
---
Easter Adventure DIY Treat Kits From I'm The Chef, Too!
Easter Egg Cookie Puzzles, Marshmallow Candy Play Dough & More!

— View deal on CertifiKID
I'm the Chef Too!
Hop on this sweet DIY Treat Kit Easter adventure with I'm The Chef Too! You'll get Easter Egg Cookie Puzzles, Marshmallow Candy Play Dough & More! I'm The Chef Too's new DIY kit lets them bake and create their own edible egg cookie puzzles that they can piece together. The fun continues as they make colorful marshmallow play dough out of a favorite Easter candy and then fold origami bunny bookmarks. This new kit comes with everything you need for this fun, interactive activity. Buy today to save 39% off plus free shipping.
---
One lucky winner will receive everything listed below:
Scribble Scrubbie Pets Backyard Bungalow $14.99
Scribble Scrubbie Peculiar Pets Cloud Clubhouse $14.99
Scribble Scrubbie Costumes Mermaids $9.99
Scribble Scrubbie Costumes Princess $9.99
Scribble Scrubbie Pets Vet Set $14.99
Scribble Scrubbie Pets Salon Set $14.99
OREO Cookies Bluetooth Headphones $117.99
Minno Annual Subscription, Plus Two Children's Bibles $99.97
18x24 Custom Framed Print (Any Theme) from My Favorite Athlete $89.99
DIY Easter Treat Kit from I'm the Chef Too! $56.40
Good luck and hoppy Easter to all!