Macaroni KID has always had two main goals. Number one we are a free resource for families that highlights local family fun such as shows, festivals, classes, and many different types of events. Our second goal is to help local businesses grow with our expansive reach. The newsletter is currently sent out to over 5,000 families in the Gig Harbor / Mason County area each Friday morning.
And because we had fewer events than normal in the last few years, we had to ask ourselves how do we continue our mission. The first was easy, we began adding virtual events and tons of resources to help families occupy kids while at home. Now there is a mix of both in-person and virtual events as well as tons of resources for creative play at home. The second took a little more thought because (at the time) we could not invite all of our favorite local businesses to events with us.
During COVID19, we decided to change our business model and share our subscriber list with ONE business PER WEEK. This is for businesses that really want to target local families and would prefer to be the ONLY featured business in the email!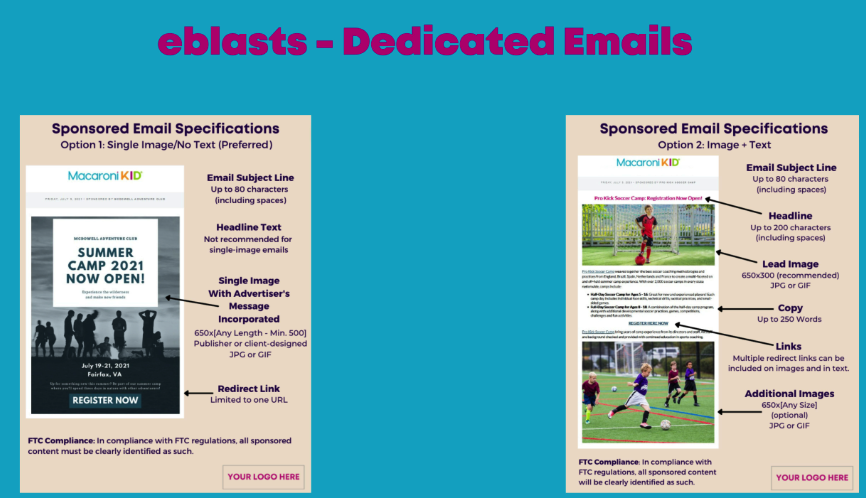 CLICK TO RESERVE YOUR WEEK HERE
How does it work? Our weekly newsletter goes out every Friday. Therefore we are offering an Email Blast to be sent out on Monday or Tuesday evening (or during the day if that is your preference) that is solely dedicated to your business. No calendar of events, articles, or ads - just the information you want to share about your business to thousands of our subscribers. It's that easy! You provide us with the content, we will lay it all out beautifully and publish it to our subscribers. The available dates are below and the one-time cost is $350 if you have a flyer of an event, class or activity to share with our readers. The flyer format is easy to read and saves you $50, down from $399 (for an eblast with paragraphs and pictures and more than one link). We can include pictures, details, shopping links, or even a simple Happy Easter, Happy Mother's Day or 4th of July Sale, from xxxx message - totally up to you.
If you would like to take advantage of this offer simply reply back that you "want in" OR fill out this form CLICK TO RESERVE YOUR WEEK HERE
We will send you an invoice (that can be paid with any debit/credit card) and once your invoice is paid your spot is secured. There are only limited spots available and they won't last long as this offer has been underutilized the last few years, so don't delay!
CLICK TO RESERVE YOUR WEEK HERE
And of course, if you have questions please don't hesitate to ask! annmariem@macaronikid.com